When you are in the process of moving house, you don't want anything to come in your way. You don't want unnecessary items to be lying around or making a mess of your house. It is important to create a checklist for moving your house that will assist you in identifying the items that you want to take to your new house. You can also give a few of your old and unused belongings to your favorite charities or perhaps put up a garage sale before you move out. But before doing that, you must perform a quick check of all your stuff. Let's have a look at what you can do:
Identify The Old And Used
The first thing that you will have to do is separate the items that have become too old and the ones that you have been using for a long time from all your new stuff. These can be:
All the clothes and apparel that do not fit you anymore
Shoes that you have worn just once and then did not wear again
Any outdated and old electronics such as your old phones or mp3 players
Posters and other belongings that you bought in your college days
Expired food items
Expired medication
Old makeup items that you don't use
Stray and unusable cords and wires
Paperwork and documents that you do not need anymore
Any worn-out bed sheets, towels, and linens
Shower curtains that have gone too mucky and greasy
Tax returns documents can be shredded
Instruction manuals that you don't need anymore
All your old bills and receipts including your invoices and similar documents
Is That Stuff Multiplying?
There are several items in your home that tend to get multiplied over time. You do pay attention to them but you don't know what to do with them. You keep on buying new ones and forgetting about the ones that you already own. These can be:
Your dishes and cookware that you don't use anymore
Various coffee cups, glasses, flutes, and bottles
Any stained, cracked, broken, or mismatched containers that you want to get rid of
Old spices, especially the ones that you bought years ago
Your hand towels that do not match with one another due to excessive use or discoloration
Gardening and home maintenance tools that you don't use or perhaps have gotten eroded
Extra vases, jars, containers, and bottles
Office supplies that you have lying around in your house
Extra luggage and bags, suitcases, backpacks, and similar items
Old chargers, wires, tablets, keyboards, and mice
A lot of this stuff can be repurposed. Old electronics, for example, can always be donated to families in need. Those extra vases, containers, and bottles can also go to any charity of your liking in your neighborhood. If you have any dishes and cookware, you can organize a quick garage sale for them. Several of your office supplies, stationery, and electronic items can be recycled as well.
Reimagining Your Closet – How To Get Rid Of The "Once So Fashionable" Stuff Before Moving
Now when it comes to reimagining your closet, there is a lot that you can do because you don't just have your clothes in here but a lot of your unused items that were once capable of making your life a lot easier. Let's have a look at them:
All your old magazines and collectibles
Old accessories and jewelry pieces that have lost their shine and relevance
Obsolete items such as cassettes, tapes, cds, video players, video cams, etc
Holiday decorations that have become useless over time
Any games or toys that your kids have outgrown
If you have any serving dishes that have never been used, you can always donate them as well
If you have any baby gear, that can always be put to reuse
Any old greeting cards can be recycled
If you have any old books, donate them to the nearest library or group study circle in your neighborhood
How To Declutter Before A Move – 3 Basic Principles To Follow
1. Prioritize Your Belongings
You must prioritize your belongings. Figure out what items you need and why. Also, try to find out what items you do not need and find ways to get rid of them just as suggested above. Do not waver from your plan because that is only going to accumulate more clutter in your house.
2. Focus On One Spot At A Time
Focus on one spot at a time. For example, if you are focusing on your closet, get it organized before you move on to your children's closets. Similarly, focus on one area of the house, for example, your kitchen or your bedroom as you begin decluttering. Then move on to the other rooms one by one.
3. Replace If You Must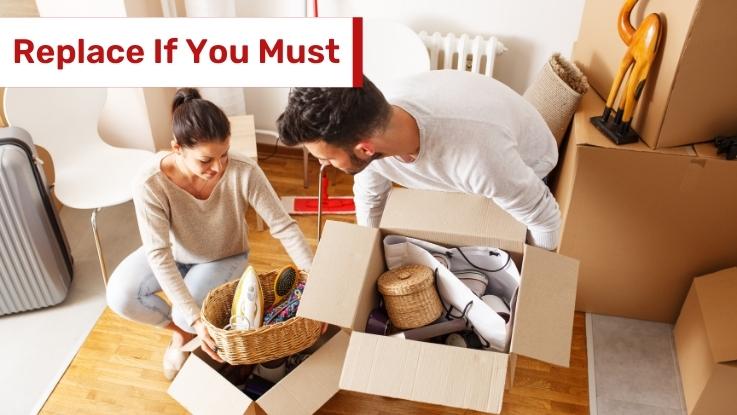 One very effective rule to follow is to already buy a replacement for an old item that you own and want to get rid of. This way you have a reason to discard the old one. But remember, you are not supposed to overdo this at all. Replace an item if you absolutely have to and also because you want to get rid of the old version of the same.
Cleaning Out Your Kitchen
Cleaning out your kitchen is also a critical step that you must perform. It is also a spot where a lot of your duplicate items get accumulated over years.
Get rid of all your expired pantry items including your flour, sugar, frozen items, condiments, and spices.
Say goodbye to any worn-out aprons, plastic containers, and similar dishes that have gone way past their useful life.
If you have any appliances that you don't use such as a slow cooker or a frying pan or perhaps a veggie steamer, get rid of them right away.
Your wine bottles will come next. You will have to get rid of them no matter how beautiful they look. They don't have any use in your new home anyway.
Conclusion
So these were a few items that can go on your checklist for moving house right away. These are the things that you are probably hesitant about kicking out of your house. But it will be better for you if you get rid of them on time. It is going to help you dial down the clutter in your home. It will also speed up the packing and moving process significantly. Happy moving!
"Moving your house hassle-free, that's our commitment". Call us Now – 1300 223 668