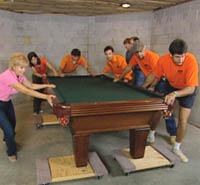 Pool tables are one of the prized possessions of a family. They are a great investment as they allow the family to bond together and have a fun time. A pool table requires a lot of care and maintenance to upkeep its functionality and appearance. Needless to say, more care is needed in case the pool table has to be moved to a different place.
At CBD Movers™, we have trained pool table movers who can successfully manage this bulky and heavy equipment with utmost precision. Our pool table movers are the specialists and have the requisite knowledge of packing and removing pool tables.
You many hire CBD Movers if you have purchased a pool table online and want it to be delivered and installed at your place. Our staff can pack your old pool table carefully and deliver it to the destination within the stipulated timeframe.
We take pride in stating that we have scores of satisfied clients throughout Australia who have availed our services. We offer specialized pool table moving services in Adelaide, Brisbane, Melbourne, Perth, and Sydney.
Get in touch with us and ask for a free quote. We assure you of matchless service at reasonable prices for all your removal and moving related tasks.