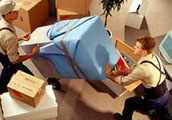 We are experienced packers and movers Melbourne and have the wherewithal to provide end to end moving solutions to individual and business clients. Our relocation and moving suite of services are available in Adelaide, Brisbane, Melbourne, Perth, and Canberra.
We use appropriate packing material to pack all your items which include delicate breakable items to the heavy bulky material. The voids are filled with bubble wraps and newspapers. Each item is then neatly stacked in cardboard boxes. The infallible packaging protects the material from extreme weather conditions and from human-inflicted damage.
Our staff is provided with trolleys, strap-dollies, flatbed dollies, and gliders to ensure secure loading and unloading of the material. Our packers and movers Melbourne also assist in unpacking and organizing furniture in your new home. We call it a day only after everything is hunky dory at the client's end.
We walk an extra mile to ensure that all the needs of the clients are met with perfection. We schedule packing, moving, and unpacking exercises at the convenience of the client. This ensures minimal disruption of the client's core work. In addition to getting the physical support that is required in the relocation process, our clients also enjoy peace of mind by hiring us. Our satisfied clients bear testimony to this fact.
To know more about our packers and movers services, just give a call on 1300223668 or request a call back by filling up the provided form