Getting bored of your city? Feeling frustrated being stuck in the same spot? Want some change? You don't have to look any further. Melbourne awaits you. Yes! If you are thinking about packing your stuff and moving to a different location, remember that the cost of living in Melbourne is quite decent and there are some of the best suburbs to live in this area that you would definitely want to know about.
1. South Yarra
Let's give you a little info on some of the most incredible suburban areas and regions to move into Melbourne to start your life all over again.
This area is counted among the most livable and beautiful suburbs in Melbourne. You can reach South Yarra from the CBD faster than any other location. It has a population of just a little over 25,000. It is also known for its amazing shopping experiences, cafes, restaurants, and nightlife. You are going to be amazed by the up-market shopping complexes that can be found nowhere else in Melbourne. If you are a nature lover, you are going to love your time in the Royal Botanic Gardens. There is something for everyone in South Yarra.
2. St Kilda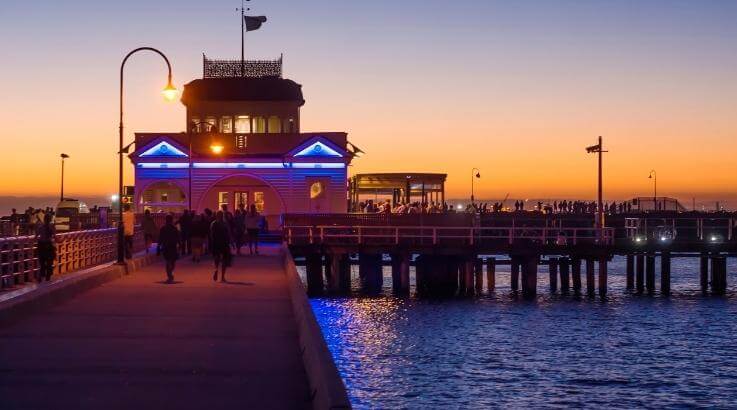 St Kilda is the perfect suburban region for you to live in if you are looking for peace and serenity. Because this area is near the beach, you will never get a single day to mull over negative thoughts. The sea breeze is going to keep you positive throughout the day. This area is just 6 km southeast of the CBD. There are numerous popular attractions within a walking distance including the historic Luna Park and the Palais Theatre. Also, because St Kilda has a lot of beaches, it attracts several watersports enthusiasts from all around the world throughout the year. And yes, for the nature lover, there are numerous open spaces, parks, and gardens where they can relish the green expanses of nature.
3. Carlton
Carlton is something that you immediately relate to the rich culture of Melbourne. Do you know that Lygon Street is also known as the Italian precinct? This is because it is the birthplace of the famous Italian cafe culture here that has taken the entire world by storm. There is the Royal Exhibition Building and also the Melbourne Museum which are regular hangout spots for artistic people. This place has a population of around 18,000 people and there are several students living in apartments as well. This makes it a great spot for you if you are looking for accommodation close to the University of Melbourne.
4. Spotswood
Now, this is a great spot and it is the inner west suburban region of Melbourne. It is only a 22-minute drive from the city center. Public transport is also a 30-minute commute from this suburb. This makes it somewhat of an isolated spot for people who are looking for peace and solitude. Every single resident of this area has parks and gardens located practically next to their doorstep. It is also considered one of the most elite and sophisticated suburban regions in Melbourne.
5. Brunswick
Do you know that Brunswick is one of the oldest suburban regions in Melbourne? It is also a major hub for all young artists, content creators, and performers. This area also has a very significant amount of student population. If you are looking for a Bohemian flavor superimposed on the colorful culture of Melbourne, this is the place to be. It also has a very exciting live music scene that you are going to fall in love with the moment you enter this area. If you value a positive and sunny environment, you are going to enjoy your time here.
6. Elwood
Now a lot of people have come to appreciate the uniqueness of Elwood over the past few months or so. This is because it is only a 24-minute drive from the city centre. Also, it has a beautiful bay beach. Because the median house price here is very affordable, it is a perfect settling spot for the middle class of Melbourne. The schools and other educational institutions are easily reachable for more than 70% of the residents living here. Close to 88% of residents here have a park or some sort of garden close to their home. This is one option you should consider when moving to Melbourne.
7. Fitzroy
Fitzroy is easily one of the best places to live in Melbourne because it is only 3 km North East of the Central Business District. It is connected with three-tram lines and there are several attractions that are just within a walking distance from this spot. The best part about Fitzroy is that it is the perfect place for young folks because it has a long list of pubs and cafes sprawled all across. So yes, there is absolutely no dearth of foods and drinks ever. Also, you have a lot of shopping and entertainment options here that give you a diverse living experience that cannot be rivalled by any other suburban region in the city.
8. Southbank
Everybody is going to tell you this about Southbank, that it is one of the most popular suburbs in Melbourne. It has a population of over 18000 people and it is dominated by incredible and awe-inspiring high-rise apartments. It has one of the biggest entertainment hubs in Melbourne with practically countless options for shopping and dining with your family and loved ones. It also has a lot of excellent cruise experiences that you can be a part of and enjoy the beautiful Melbourne skyline unobstructed. Phew!
9. Windsor
The city of Melbourne also offers you something like Windsor. This is also located only 5 km southeast of the Central Business District. There are superb educational facilities available to more than 70% of Windsor homes. It has a long list of restaurants, beautiful bars, shopping complexes, and a lot more to offer. You can find medium-density apartments and Victorian-style terrace housing in Windsor and all that is going to be within your budget.
Conclusion
There is South Melbourne, Williamstown, Seaholme, Albert Park, Richmond and the list just goes on and on. It is only when you finally set foot in Melbourne that you discover just how incredible living in the city can be. There are numerous options of dwellings that suit practically every budget. So, when are you moving to Melbourne?
If you want to make an easy moving experience with professional removalists in Melbourne, Call us Now – 1300 CBD MOVERS