Moving can become a way larger project than it has originally planned or expected, in just a fraction of seconds. If not planned or organized properly, even minute details can turn into some major disasters on a moving day. Nevertheless, any project is best when planned properly far in advance. Sometimes moving last minute is a necessity and requires more vigilance.
Looking for affordable moving services. Contact us for a Free Quote.
Everyone does not have the luxury of planning their move weeks or even months. Especially, if you are living in the inevitable city, and your living circumstances may be influenced. However, getting last-minute moving help can significantly ease the process for you while reducing the chances of a stressful and chaotic experience. Regardless of the reason for moving, do not get surprised if your moving last minute makes you feel majorly overwhelmed. Getting panicked in this situation will not help you. You need to calm yourself, take a deep breath, and look at the moving last-minute tips. From the observation of last-minute movers, some useful tips are combined for you.
Get Professional Help That Fits Your Needs
The foremost thing which you need to do is to browse the internet and search for 'the best last-minute moving companies near me.' Later, you will get a list of experienced and professional movers.
You must be having a thought on doing everything on your own, but based on a notion, you need to look for last-minute movers near me to make it less stressful for you. While searching on the internet and looking for some last-minute moving help, you can select the best one, which you think can cater to all your requirements.
Getting professional help is a great way to take charge of your move and to make sure that it is finished promptly. Professional removalists can coordinate each task on a tight timeline as required.
The team of removals will pack your house swiftly, without causing any delay, and can even unpack your stuff also. For instance, choosing a moving vehicle can add flexibility and reduce the pressure of moving last minute. Most of the professional movers also offer many comprehensive services like clean-up, vehicle shipping, and custom crating. Which generally ease the complete process in every possible way at the last moment.
Plunge Your Unnecessary Items
To make the move happen faster, you should initiate downsizing the items which are of no need anymore. Donate, sell or give away whatever does not belong to your necessary things list.
It is a quite painful experience and hard to get rid of the things which were once part of your life. However, in moving last minute, this part can be a blessing in disguise. Before packing starts, designate an area for the things you will not be taking along with you. You need to be a little ruthless while purging your items, because the fewer you keep, the fewer things you have to pack.
Therefore, you can brisk the moving once the decluttering part is done and you are also left with essentials only for your new place.
Organization is The Key
According to an observation of last-minute same-day movers, an organized house is much easier to pack than an unorganized one. There are two reasons to keep an organized house, first is that the personal belongings will stay protected and you will have an idea that where a specific item is kept.
Second, packing of the house will become easy and there are least chances of losing anything. On the contrary, an unorganized house will be difficult to pack and it will be a time and energy-consuming process. So, it is better to stay organized and keep the house in such a way that you immediately start packing.
Create a Moving and Packing Checklist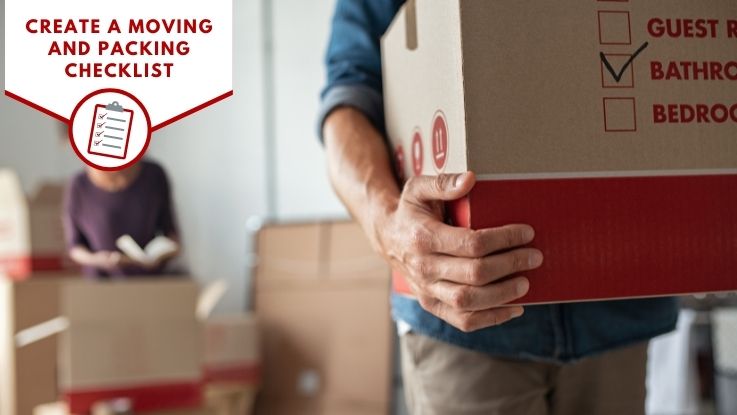 Even if it is a last-minute move, it does not mean that we should not follow particular criteria. A moving checklist is a must when you are time-challenged. This list is meant to prioritize a list of everything you need to get done. In addition to that mention the deadlines, so that you can release some stress and stay on track.
Once you found last-minute same-day movers and receive the time of their arrival, then you need to invest some time in preparing a proper moving checklist. The list will let you stay more organized when you can check off items as you complete them.
Give Priority for Small Things Packing
While packing the items, people prefer to give priority to big things, in that case, many small things are left out. Rather than focusing on big things start packing small things first. Start by packing the kitchen items first and then slowly move towards the bigger places like the master bedroom and living room. Apart from this, make sure that you leave heavy things like furniture for the last day.
This piece of advice will help you stay stress-free when the movers reach your place. Also, juggling with so many things at the same time increases the stress level, so to manage your stress you have to take one step at a time.
Try to Get Personal Help
When you are swamped with so many things to manage together, feeling overwhelmed is quite normal. You must be going through the feeling of getting done with everything quickly and perfectly at the same time. Consider asking your family and friends to give you hand in moving your personal belongings. Most will be happy to help you out in such exhausting circumstances accompanied by good food and company for their time and effort.
Emphasize on Packing Properly
When you are working under a deadline for packing the items, chances of confusion may arise. You need to painstakingly sort all the boxes and label them accordingly. When you know which box consists of what then it gets easier for you to sort them for loading. For instance, fragile items need to be kept safe and it is mandatory to label the box with 'FRAGILE' so that you and the removalists would understand that particular box needs special care and protection. In case, you left any essential thing in the box accidentally, you can open it again to keep it with you for moving.
To get more information regarding budget-friendly moving services, Call us Now – 1300 CBD MOVERS