You are going to need a few suggestions when creating a moving checklist for your big office move. And no, you are not in the middle of those run-of-the-mill pieces online that tell you how to choose the best moving services in Melbourne or inquire about the right insurance for your expensive belongings. It is beyond all these tips.
This might turn out to be the most comprehensive and enlightening piece of information that you will ever come across. Choosing a relocation partner for your office is one of the most critical tasks that you could undertake. There is no room for any mistakes here because not only your office operations but the livelihoods of hundreds of workers and employees depend on this decision. You should always come prepared with a few questions and queries, especially if it is your first time performing an office relocation. If you think that you do not have any doubts or queries, you are definitely in for a big surprise. Let's not take this chance. The following section talks about 9 highly critical questions to ask when you are in the process of hiring office removalists.
1. How Are They Going To Take Care Of Your Expensive Belongings?
This is going to be one of the biggest concerns that you will have, especially when you are traveling with all your expensive electronic items. It is not a good idea to choose any office removalists in Melbourne if they do not have experience in transporting complicated machinery, expensive equipment, or imported gadgets over long distances. In fact, regardless of what the distance is, when it comes to transporting delicate and expensive items, the quality and amount of packing materials, lifting and moving precautions, vehicle category, and the route taken are all going to matter a lot. If they do not have the knowledge and experience regarding the same, it is not a good idea to choose them.
2. How Much Experience Does The Company Have?
This brings us to a very important question. How much experience do they have overall in the industry? Before you choose moving services, this is something that you should be aware of. There are several items in your house such as your pool table or perhaps your beautiful antique piano or the ancient wall clock. The movers should be able to deal with them with utmost care and precision. The fact that they are not able to do that is evidence enough that they don't have the relevant experience.
3. What Services Are Included In The Quote?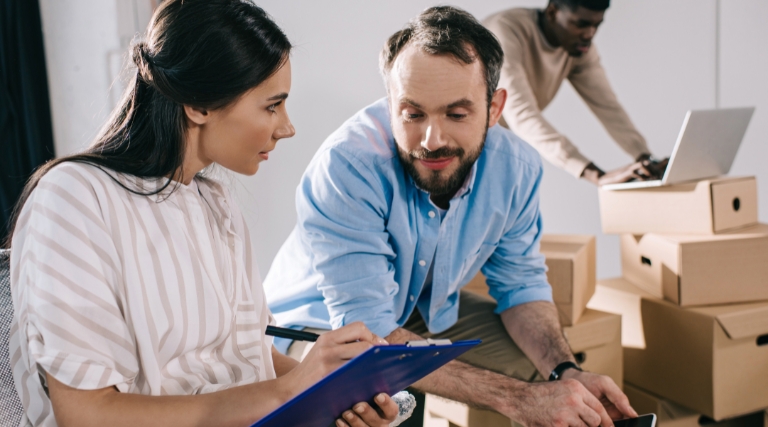 Usually, most movers in Melbourne will offer you a total package deal. Of course, there will be a few services that might be excluded from the deal. Some professionals might not consider heavy objects as a separate category of items that need to be moved. A few office relocation professionals would give you a special offer if you choose their services in advance. Similarly, there are a few packers and movers that offer to reassemble your furniture pieces at no extra cost and would even be willing to assist you with redecorating your new office.
4. Ask About Their References And Testimonials
This is something that you should never be hesitant about asking. Remember to enquire about their previous clients and ask them to share their opinions and testimonials with you. If any individuals did not find their service satisfactory, you should be aware of that little detail as well. Ask to visit their official website as well and go through the most relevant complaints and queries and request answers/explanations for the same before you make this choice. A packing and moving company that can answer all your questions without batting and eyelid will be your best pick.
5. Is There A Deposit That You Need To Pay In Advance?
Usually, the deposit should be somewhere between 15% to 20% of the entire amount that has been agreed upon already. If the packers and movers ask you to pay anything more than that, it is not a good idea to choose them at all. So this is something that you need to ask them directly without any reluctance.
6. What Kind Of Padding Materials Do They Offer?
If you are not aware of the type of padding materials that go into the entire packing process, it is time to Google them. Conducting small research on the various categories of packing materials such as containers, moving boxes, wrapping paper, padding materials, and similar items is going to prove to be highly useful. You can also enquire about the brand and the quality that the moving professionals offer so that you have more clarity as to how well your belongings will be taken care of while they are in transit.
7. Will They Help You Empty Out Your Cabinets?
One of the most crucial tasks that you have to perform when moving your office from your old location to your new building is emptying the cabinets and the endless slew of drawers and containers. This is not only frustrating and repetitive but very annoying as well. Ask whether the movers in Melbourne you have hired are going to assist you with this little yet important task or not. If they do, that will be simply awesome.
8. Are They Experienced In Dissembling And Reassembling Furniture Pieces?
You should not forget to ask this question because it takes away a lot of your stress directly related to office moves. Helping you pack and move is not the only thing that these professionals do. They disassemble, pack, move, and then reopen and reassemble your furniture pieces as well. This ensures a hassle-free experience for you. Remember, the packing and unpacking service is complemented by efficient reassembling of your furniture pieces so that you do not have to deal with any of that stress yourself.
9. Will There Be Any Additional Charges?
Now let's come to the biggest question of all. Affordability is a big factor and it matters to most offices out there, especially low to mid-size startups. It is essential to know whether you will have to pay any additional charges for these services or not. Get as much clarity as possible about the cost that you have to pay for the entire move. There should not be any hidden charges or surprise fees at the end of the move.
It is never going to happen that you do not have any questions, doubts, or queries in your mind. You might think that you are well prepared for this move. Some office managers might think that they can do better without any professional assistance whatsoever. That might be true in some cases but in most scenarios, it is always better to choose office removalists in Melbourne, especially if this is your first time. And for the doubts that you might encounter, you can always refer to this piece of information.