What to do while the packers and movers are moving around your property and getting all your stuff onto the truck? If you are wondering the same thing, you are probably not alone. But you are not going to just sit there and watch the movers and packers go about their business without lending a helping hand. Instead of just sitting idle, it is better to make yourself useful. But remember, do not come in their way or tell them what to do because this way, you are just going to be delaying the entire process.
Planning to move home and looking for a professional company? Contact us for a Free Quote.
Following is a list of a few things that you actually can do if you intend to help the moving and packing professionals in your house: 
It is always a great idea to clean your home before the moving company arrives. Make sure that the professionals have ample space to park their trucks and also to move around your property once they have entered your house. Sweep the floors clean and get rid of all the clutter. Make sure that no toys are lying around the floor and especially no pet-related stuff that comes in their way. Make it possible for them to move all your furniture pieces and cargo seamlessly to the truck without any interruptions or obstacles.
Pack And Label Your Stuff
Do moving companies pack for you? Yes, they do but you can save a lot of time if you pack your stuff either before them or along with them. This is going to be a great help to them. Empty your drawers and cabinets and make sure that all the items are properly packed to be transferred to their destination. Tell the packers and movers where exactly each package is going to go. Make sure to create relevant labels for every box that you make. Label all of them before any of the boxes get transferred to the moving van.
Pack Your Fragile Items
It is a good idea if you pack your fragile and valuable items all by yourself. This way you do not risk any of those items breaking, getting damaged, or lost. The best way to do that is to add a lot of cotton padding in those boxes that will contain your fragile items. Make sure that all your artwork and jewelry pieces along with all small electronics are placed in boxes that have enough cushioning and padding. This way the movers and packers only have to lift the heavy cargo and none of the small or lightboxes that can fit into your own car very easily.
Plan And Offer Refreshments
This will be a very thoughtful gesture on your part. You can plan for refreshments in advance and offer them to the moving company professionals once they have arrived on your property. It is a wonderful idea to help them keep hydrated throughout the process because they will be working all day long. If you have a lot of cargo to move and long distances to travel, allow them a little break in between the move so that they can catch their breath and then get back to work with renewed energy. The packers and movers are going to be highly grateful to you and your consideration.
If you have any advice to give them, it is better to keep it to yourself. You are not the professional here. These people are trained and qualified at what they do. They very well know how to handle heavy furniture pieces as well as fragile items. The only thing that you have to ensure is to keep their route free of any interruptions.
It is better not to come in their way. You do not have to follow them across your house or help them move each and every box that they lift. Just make sure to pack them well and label them correctly. The rest will be handled by the packers and movers quite efficiently.
Lend A Helping Hand (Only When Asked)
You can be there to lend a helping hand but only if they ask you to. You can be an on-site assistant along with a few of your friends, neighbors, or even family members. However, make sure to invite somebody reliable and strong. Do not ask them too many questions and perform the task as directed by the professionals. Pay attention to the directions that they give you and everything will be done super fast.
Parking Instructions Would Be A Good Help
You can also do a huge favor not only to the moving company but to yourself as well. You can provide them parking instructions before they arrive and help them park their vehicle when they finally do reach your home. You can also ask the building manager to make additional space for the moving van. Make sure to inform the packers and movers about building rules and regulations before they set up their entire apparatus close to your home. You'll also have to get a hold of the city guidelines before you ask them to come over to your apartment building.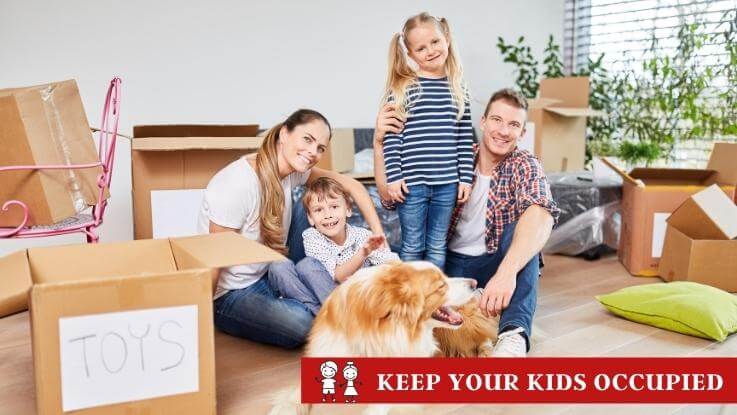 This is a very important responsibility and it is entirely upon your shoulders. Give your kids a coloring book and all of their favorite toys. Get them playdough or a few books to read. The trick here is to keep your children occupied for as long as the movers and packers are in your house. Your kids can easily delay the moving process if they are let free. They can easily create a ruckus all around the house. Needless to mention it can also lead them to get injured. 
Final Thoughts
There are a lot of ways that you can make yourself useful when the removalists have finally arrived at your house. It does not mean that you have to do something concrete. Just make sure that they can function seamlessly and uninterrupted. 
Easy Moving Experience with Professional Removalists. Call us Now – 1300 CBD MOVERS