There are several ways to pack your moving truck for the day you want to move out of your old home. You can hire a moving truck but you'll also have to learn how to pack that automobile if you want to utilize the space within it more efficiently.
Planning to move house and looking for a professional moving company? Contact us for a Free Quote.
1. Begin By Assessing The Size Of The Truck
You will have to consider the size of the moving truck. Usually, moving trucks can be around 26 feet deep. Several moving rental companies, packers and movers will come up with a standard size that can be anywhere around 26 feet and 30 feet. You can get inside the truck and have a closer look at the expanse of the floor to understand how you will populate the entire space efficiently.
2. Gather All Your Packing Supplies
The next important step is to gather all your packing supplies. These include your moving boxes and cartons. Plastic wraps, packing tape, a durable furniture dolly, packing pads, nylon rope, styrofoam, and other padding materials will also go onto your shopping list. Do not forget to buy a few permanent markers and a label maker.
3. Don't Forget To Use Moving Straps
When you are about to move your items to the loading ramp and onto the truck, make sure to use moving straps. They prove to be highly useful for all your heavy furniture pieces, especially the ones that are too heavy for a single person. Strap down all the four corners of furniture pieces as you lift them up. Moving straps can also be used to keep all your objects in place when they are in transit.
4. Disassemble Your Furniture Pieces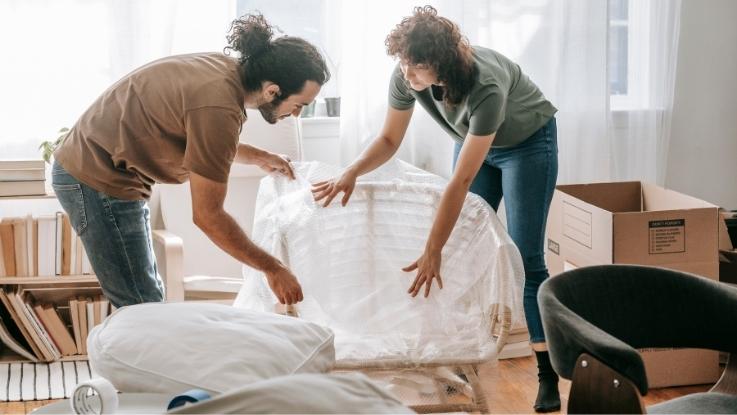 It is always advised to first disassemble your furniture pieces and then move them bit by bit onto the loading truck. Spread them out on the floor of the vehicle evenly. Several of your medium-sized couches and a lot of your chairs and recliners can go as they are without having to dismantle them and put their components in any moving boxes or containers. You should be able to unload them the first thing you move into your new house.
Now Let's Move On To A Few Specific Truck Packing Tips
Make sure that all your moving boxes are small to medium-sized and as compact as possible
It is better to distribute the weight of these boxes evenly and for that, you'll have to spread them out on the floor of the truck
It is also a great idea to disassemble all your large furniture pieces and store their components in small and medium size boxes to achieve the same result
Remember to stuff enough wrapping paper and protective material inside the boxes to give them more stability
If you are packing and moving any of your expensive carpets and rugs, make sure to roll them nicely but not too tight and wrap them up with a clean plastic wrap
Get hold of older and original delivery boxes and cardboard cartons if you can
Also, it is a good idea to group certain items of the same size and put them in the same box
The same can be done with the contents of rooms where you can pack together all the items according to your bedroom, kitchen, bathroom, and store room
Now Coming To A Few Loading Tips For The Moving Truck
Ask a few of your friends and neighbors to help you out if you don't have enough manpower
Use your imagination to divide the floor of the truck in your mind so that you can populate every section with the right boxes
Place all the heavy boxes right at the back which can be unpacked at a later stage
Make sure that other items don't get crushed while you are settling them against one another
All your portable and lightweight furniture pieces should be kept right at the front so that they can be unloaded the first thing you reach your new home
Reserve a section of the truck's floor for all your fragile items such as expensive dishes, utensils, artwork, mirrors, and glassware
It is always advised to load all your lighter items at the last stage when you are about to lower the gate of the truck
If you have any couches, headboards, and tables, it is advised to place them in the truck in an upright position only
You should cover all your mattresses and upholstered furniture pieces and other soft items with extra protective covering and plastic wrap to protect them from any dust and damage
If you are carrying any expensive artwork or probably a lot of delicate items and glassware, you must invest in specialty boxes and extra padding materials to protect them when they are in transit
When you are about to load them onto the truck, make use of moving straps and nylon rope to keep them steady
The last item that you load on the truck should be the one that you will need immediately after you have moved in such as your medicine box, essential items, baby care items, important documents and papers, and the like
Conclusion
Remember to be patient with your packing and moving process. If you find it difficult to do all of it on your own, you can always connect with a professional and hire a moving truck for the purpose. They are going to make the moving day a lot easier for you.
Want to hire professional house movers? Call us Now – 1300 223 668