When you look at the Australian subcontinent as a whole entity, you come to understand just how diverse every city and state can be. It contributes to the country's exquisite character in its own way. Every area, neighborhood, and locality in each of these cities has its unique charm and beauty.
Looking for a budget-friendly moving company? Contact us for a Free Quote.
If you are planning a move away from your city or to any of the cities mentioned in this blog, you should be aware of a few characteristics of each of them. Let's begin:
Adelaide
Adelaide can be called the food and drinks capital of the country. This is without a doubt one of the most beautiful cities in the country. It has been the capital of South Australia for a long time and is one of the best places to move in on this list. The best part about this city is its friendly people. Also, it has one of the most affordable real estate options. The job opportunities are very good with close to 5,000 skilled migrants moving into the city almost every year. You will find a lot of expat families living in Adelaide for obvious reasons such as its overall area which is quite big as compared to other cities. It also has a lot of green spaces that you are going to love including Mount Lofty and the Botanical Garden. Needless to mention it is one of the best regions in Australia where you can find superb quality wine.
Brisbane
Brisbane is a lovely city and it is known for its beautiful rural landscapes. It has all the excitement that you can probably find under the sky. It is way more affordable as compared to the biggest cities in the country such as Melbourne and Sydney. One of the most amazing characteristics of Brisbane is its booming economy. The hospitality and the health sector in particular are growing at a very rapid speed. The tourism sector is also quite lucrative with thousands of job opportunities sprouting up almost every 6 months. Another very attractive characteristic of this city is the very popular Gold Coast. You will find that the inner suburbs of Brisbane are highly affordable and the overall living cost in the city is also quite low.
Canberra
Moving from one place to another across Australia? This city is an awesome place for you if you are looking for beauty and tranquility. It is a great city to move to with your family. It has a very sophisticated atmosphere and you can get a decent house in this city for a price that is well below the national average. The people here love to go to picnics, enjoy bike rides, and their most favorite pastime is fishing and sailing. There is a lot that you can do in and around Canberra. The city is specifically family-friendly with its great suburban plan and a long list of adventure activities that you can enjoy with your loved ones. Canberra is one of the very few cities in the world that have still been able to retain their small-town charm without any trouble. Living here is like living the Australian dream.
Melbourne
Melbourne is a beautiful amalgamation of cultures from all over the world. It is also called the cultural capital of Australia. The best part about this city is its long list of bars, cafes, restaurants, eateries, and never-ending festivals throughout the year. Melbourne is popular for its unpredictable weather. The nightlife here, especially that you find around the Central Business District is exemplary and is going to leave you breathless. If you are a fan of sports, you will never be disappointed with this city with all the year-round events that keep you occupied and active. This is a culturally diverse city with a booming industry comprising automotive, financial services, technology, aviation, construction, engineering, and a lot more. Melbourne also has some of the most elite expat crowds that you will ever come across.
Sydney
Sydney is the city of opportunities. It is also the home of some of the most popular and awe-inspiring sights. Sydney is iconic. You can find American expats roaming around the northern beaches with their families and loved ones. It is a great place to live in, especially if you are looking for a career change. The city offers access to over 100 beaches which is absolutely unhindered. It also has one of the most beautiful skylines that you will ever see throughout the country. The booming sectors that make Melbourne the city of opportunities are financial services, communication, technology, manufacturing, and many more. It also has a thriving art and music sector for the creative souls looking to settle down here.
Perth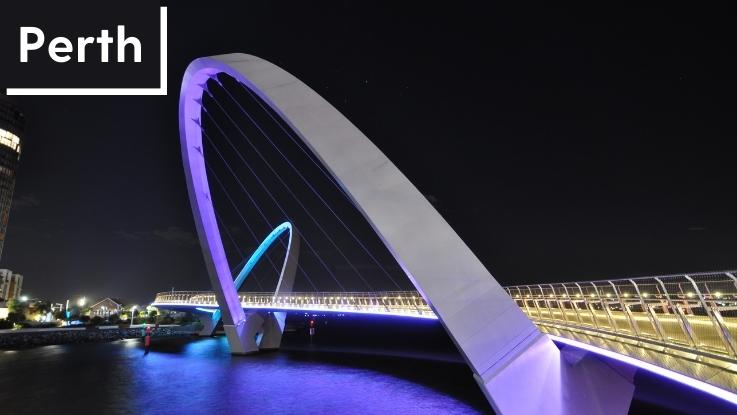 Perth is known for its amazing weather. It has various nature reserves and if you are a nature and wildlife lover, your haven is right here. It also has a thriving economy with technology, health care, tourism, mining industry, and manufacturing taking the lead. The residents of this city are rather laid back and very fond of the life that this place has to offer. It is a fast-growing economy and has beautiful islands, beaches, and other recreational areas for practically everyone belonging to all age groups.
Darwin
Thinking of moving to a new place? Darwin is another city to consider. It has a very fast working life as well as a great cultural heritage that makes it a fantastic combination of both worlds. This city has some of the most unique natural landscapes and sceneries surrounding it. The nightlife is also quite impressive with warm and welcoming weather all year round. It is one of the very few cities in Australia that the majority of youngsters are drawn to. So yes, it is not Sydney or Melbourne but Darwin that has become the hub for the young generation. Right from accommodation to retail, construction, food services, or health care, everything is affordable and very well in reach, putting the ease of living index of this city among the best in the country.
Final Thoughts
Regardless of which city you move into across Australia, you are going to find more than one reason to love it deeply. Every city has a different character to it. Every state is known for its unique history, heritage, and culture. Living in any one of these cities can be an enriching and life-changing experience.
Hire the most trusted and professional movers and packers. Call us Now – 1300 CBD MOVERS