It is time to finally move out of your old house. It is time that you let go of those old memories and start afresh. I am sure it is not going to be that easy, especially if you haven't yet decided upon your post-moving checklist. There is a lot to be done here. You will need a plan of action. You must come up with a well-thought-out series of tasks after you have moved into your new house if you want to get everything in order. You will need to stay strong and focused.
Searching for a budget-friendly moving company? Contact us for a Free Quote.
Let's begin with a post-move checklist that is the most basic and easy-to-follow:
Take A Walkthrough Of The Property
This is the first thing that you will have to do once you move into your new property. Take a walk-through of the entire space to understand what doors and passageways lead to what areas. You will get a good idea as to where you need to unpack all your stuff and which appliances and furniture pieces are going to go into which rooms. This way, you'll also get a better idea of whether you should purchase any more furniture pieces or items to decorate your new home or not.
Perform A Deep Clean Of The House
You can perform a deep clean of your house while you are in the process of moving or when you have moved into it completely. You can also drop by before the move and perform a minor initial cleaning of the property. You will have to invest in a few cleaning solutions, preferably plant-based, and a lot of paper towels and napkins just to be sure that none of the dirt and grime is left behind.
Install A Home Security System
This is also a very critical step that you must perform after you have moved into your new property. Installing state-of-the-art and highly efficient surveillance and security systems is a must. This is recommended for the safety of your loved ones and also for your peace of mind. You don't know the area just yet and it is better to play safe. Install motion sensors and also night vision cameras for enhanced security. Make sure that the gadgets and appliances that you invest in allow for third-party software integration as well.
Get Your Car Registered
If you are moving to another state in Australia, your post moving checklist should include getting your car registered in the new location. You will have to do a bit of research whether you require to submit any paperwork related to your vehicle with any of the local bodies or not. Look for vehicle insurance as well because you might need to update your paperwork in the new city.
Transfer Your Medical Records
If you have any medical records, get them transferred to your new address. It is better to be safe than sorry and it is advised to do this as you move into your new home or right after you are done with the moving process. According to HIPAA, your old provider will have close to a month to process your paperwork. This means you will have to do this either right before you move or instantly after you are done moving.
Meet Your New Neighbours
It is very important to include meeting your new neighbours and socializing a little in your post-move checklist as well. This is going to help you get to know your locality and will also give them an opportunity to welcome you to the neighborhood. Remember that a little friendliness is going to go a long way. It will also help you transition from your new home to this place more easily. You can get an idea of the recreational areas that are located close to your house and where you can get your regular grocery supplies from, and the like.
Baby-Proof Your House
This is also a very crucial step that you might have to perform if you have pets or kids in your family. Baby-proofing your apartment or house is essential if you want to prevent your little ones from encountering any accidents or falling prey to any injuries. You must secure all the drawers, cabinets, glassware, cleaning supplies, cupboards, movable furniture, bookcases, and also heavy appliances that may cause your pet or child any injury.
Look For Much-Needed Repairs
Whether it is a brand new house or not, you might need a few changes or repairs with it. You can put up your new property for an instant inspection before you move into it. It is better to prioritise all the repairs as you settle into the new house. Make a list of these repairs and perform them before or as you move into your house.
Change All Your Locks
This is the perfect way to prevent any anti-social elements from entering your property. If you haven't yet installed a state-of-the-art surveillance and security system, you can always change all your locks. It is better to do that yourself if you do not want any stranger breaking into your new property.
Take Care Of Your Utilities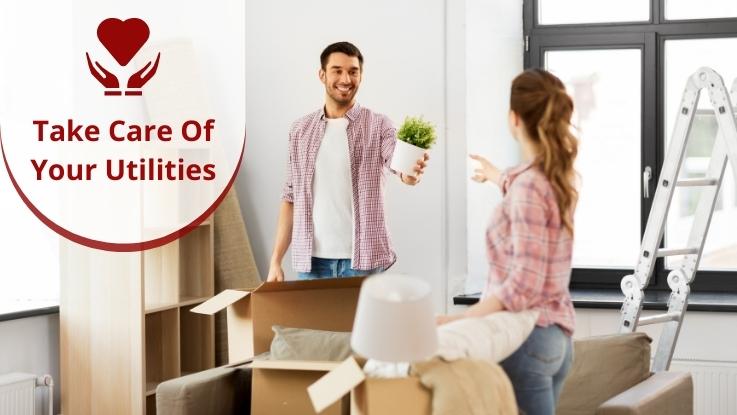 You will also have to make sure that all your utilities are up and running. Make sure that you get proper electricity, gas, water, heating, cooling, and the like. Ensure that the phone lines are working and that you get proper internet speed in your area. Also, do not forget to connect with the local garbage pickup facility.
Final Thoughts
As an endnote for your post-move checklist, do remember to unpack your essential items first. Make sure to look for the fuse box as well. Locate the various valves and switches that control the entire electricity and plumbing of your house. Also, look for any emergency switches that you might need to operate at the last moment. Look for the furnace, the main water supply, and familiarise yourself with the basement and the garage as well.
Be cool, this is your new house!
To hire the most trusted and professional movers, Call us now – 1300 223 668