Moving house is an arduous task and a downpour on the big day can even pose extra challenges to your relocation endeavor.
If your move has been planned for months, probably you may not get the chance to postpone the move just because it is raining outside.
So, what to do if it starts raining unexpectedly on the moving day?
Read this article to know 5 insightful tips that can make the rainy day move doable:
1.   Waterproof packaging
During a rainy day move, provide adequate protection to your belongings so they don't get soaked in water.
Here are a few ways to "waterproof" your items:
Plastic garbage bags: Use them to cover clothes, paper goods inside boxes, pillows, and bedding.
Shrink wraps: Furniture is sensitive to moisture. Look into plastic tarps, or shrink wraps to cover large furniture items and mattresses.
Plastic bins: Use plastic bins to keep your books, documents, and other paper items dry.
Quality cardboard boxes: These provide enough protection to your belongings against moisture. Just make sure to seal them well with packing tape.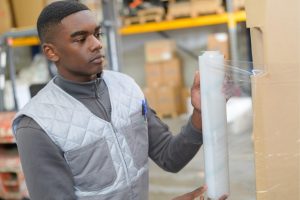 2. Self Care is important while moving
While protecting your belongings, don't forget to protect yourself.
Here are some tips to keep yourself safe, and dry during a rainy day move:
Wear non-slip shoes or rain boots to minimize the risk of any injury;
Wear a raincoat or waterproof jacket to prevent yourself from getting drenched;
Use an umbrella to protect yourself from heavy rain showers;
Moving around with wet clothes is like inviting common cold or even fever, so keep an extra pair of clothing during the move.
3.   Wipe off water puddles from boxes
Despite the precautions, if you still have water running over the boxes, wipe them off. Moreover, you don't want to unpack things at your new abode to find that all your assets smell musty.
Some of the tips to follow are:
Place a few towels in the truck bed to keep your items as dry as possible;
Have some old towels handy at your new house to dry off your belongings when they arrive;
Place old sheets on the floor to mop up extra moisture.
Moreover, try to unpack quickly to let items breathe and prevent further damage.
4.   Prep your new home
Invest some time to prepare your new home for the movers to arrive. A few simple steps to follow are:
Welcome mats: Lay down a welcome mat or any old rug to avoid damaging your floors or carpet.
Turn up the heater: The heater will remove excess moisture from the air and will make your new abode comfortable.
Lay down dry cardboard boxes: These walkways create an anti-slip surface and also protect your wooden floors.
5.   Hire professional movers
Professional movers provide services efficiently in all sorts of conditions, and a rainy day move is just another job for them.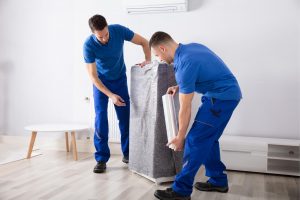 As an extra benefit, you can stay inside and dry while they do all the work. Some of the precautionary measures that professional movers follow are:
Make sure the water leak does not damage the moving boxes;
Use waterproof packaging materials to protect your belongings;
Use rugs, towels, or similar materials to protect your floor from the mud.
Safe and careful loading and unloading.
In the end…
Moving in the rain might be disturbing, but it doesn't have to be a nightmare.
If you are looking for assistance during a rainy day move, feel free to call us at 1300 223 668 for quality moving and packing services.
Good luck!
The above mentioned tips will help you to have a smooth move without any delays.