You want to work from home but you don't have the time to carry out office relocation. That is unavoidable. You look around and you will see several professionals trying their best to get out of their office confines. You must have thought about connecting with office removalists as well to ask for assistance with the same. You are bored of those same rooms. Even your home office seems to be monotonous. So what are you going to do?
You are feeling a little experimental. You want to enjoy a little bit of nature. Yes, we are talking about creating a garden office or an outdoor office if you want to call it that. This is going to be a massive and welcome change in your daily routine. It is also going to improve your productivity significantly. The following section talks about a few reasons to consider moving your office not just out but close to nature. Let's talk:
1. Did Somebody Say Improved Productivity?
Let's face it. When you become one with nature, it calms you down. It just makes you a lot more easygoing and it takes away a lot from your existing stress. The feeling of being kept inside a room or being confined in your office space is gone for good you want to work harder and complete your deadlines sooner so that you can get back to enjoying nature again. Remember, this is going to be a beautiful and welcome change that you are going to relish every bit.
2. Strike A Better Balance Between Your Life And Work
It is very easy to strike a balance between your home or personal life and your work life. It is equivalent to enjoying your time off and working at the same time. When you do not have any stress or anxiety piling up inside your mind, you can ensure better results at work. A garden office or an outdoor office gives you the comfort and freedom of being home but not close to the usual distractions of a typical household. You can complete your work-related tasks more promptly and efficiently. The result is more time for your personal life which leads to a perfect balance between your personal and work life.
What Equipment Do I Need For An Outdoor Home Office?
A few pieces of equipment that you will need for your outdoor office space are as follows:
Ergonomic chairs and tables
Foldable desks
Laptop and monitor stands
Comfortable recliners for your clients
file cabinets
Cable trays
Waterproof coverings for wires
Autonomous office pod
Solid yet lightweight roof for your office
Portable router
3. Your Work Area Still Remains Private
And yes, we need to talk about a glass cubical or perhaps a partition that is going to keep away all the noise and disturbances away from you. If you are thinking about office relocation within your home, this is one area where you will have to seek the assistance of office removalists in your city. They will be able to guide you better on how to create an office space on your property but outside your house without leading to any disturbances or interruptions at all. This way you can have your workspace but with no intrusions or disruptions.
4. Better Mental Health, Who Doesn't Want That?
Remember, having an office on your property but outside your house automatically brings you closer to nature. As pointed out above, it creates a personalized workspace within your reach but outside the confines of your home. This is great for your mental health. Because you are already connected to your house yet very well involved in your work routine, it gives you a feeling of contentment and achievement at the same time. You get to experience a sense of peace and tranquility without even trying too hard. It is a great way to stay motivated while staying connected to your family and your co-workers at the same time.
What Are Some Of The Benefits Of Moving Your Home Office Outdoors?
The biggest benefit of having an outdoor office or moving your home office to the outdoors is that you can reduce your stress significantly. It also improves your energy levels and helps you get rid of your mood swings. This space keeps you happy and allows you to carry out your brainstorming sessions without any disturbances. It improves your memory and keeps you overall healthy as well.
5. Add More Value To Your Property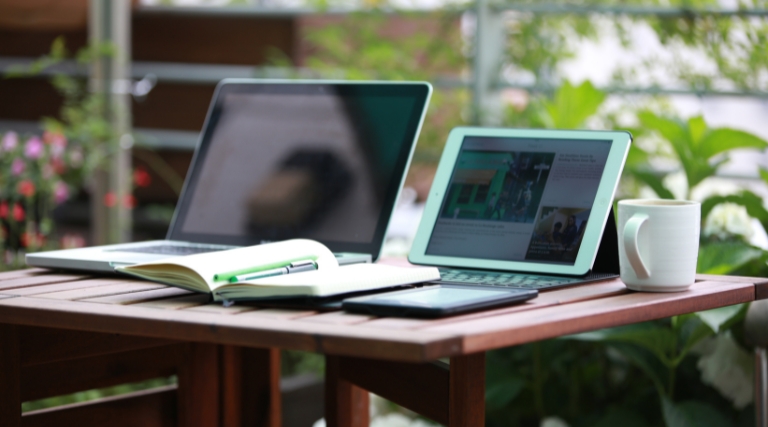 Let's just say that you have taken this decision. You have decided that moving your office out of your house and into your garden area is a great decision. Do you know what you are going to be doing in the process? You will be adding a lot of value to your property. Let's imagine that you have converted the gazebo outside into a covered area that houses your office gadgets such as your computer, printer, and router, and also makes enough room for your work desk. All your boxes for moving your office equipment have already been moved to that area. Now the next step would be to build a wooden framework and add fiberglass walls and other coverings of your liking. The result will be more real estate within your property that not only adds functionality but value to your house.
6. No More Rent
It is quite obvious that the entire setup is going to prove to be a valuable investment for your property. It will turn out to be a highly profitable affair in the long run because you can avoid paying office space rent in a busy commercial district in your area. Also, there is no expense related to commuting or fuel, or office maintenance as well. This helps you save a lot of time and resources. Needless to say, you end up saving a lot of money as well.
How Do I Protect My Equipment From The Elements In An Outdoor Home Office?
This is probably one of the most important investments that you will make. You must invest in solid plastic coverings and waterproof silicon cases for all your wires, plugs, sockets, and other electrical connections. It is always better to store your computers, tablets, and other electronic gadgets in waterproof and durable cabinets and desks. Use something that can be extended outward to cover these pieces of equipment in case of extreme weather conditions.
To Wrap It Up For You
As you can see from the discussion above, there are so many benefits of having an outdoor office within your property. This switch gives you the peace of mind and satisfaction that you have always wanted all the while being true to your career and ambition. So, when are you moving your office to your garden area?