If you are looking for a few moving tips for seniors, you have come to the right place. It is not easy being self-dependent when you are of a certain age but hats off to those cool ones who intend to live life on their own terms. This blog aims to simplify this life-changing move for the elderly.
Get the best and budget-friendly moving services? Contact us for a Free Quote.
So, here's to helping seniors move safely and without any hassle.
Have A Closer Look At Your New House
Ascertain how much space you are going to need for your luggage after you have effectively downsized some of your belongings. Make sure that you are aware of the floor plan of your new house. Look for any modifications that you might require with the house before you move into this space. Choose a room that you want your entire luggage to be stored in
Time To Assess If You Need Help
If you have a pair of extra hands, things could go a lot smoother. Get in touch with your local moving company, preferably one that provides special moving assistance for the elderly. Get an estimate on the time they will take to pack and their charges as well. Invite at least 4 or 5 quotes just in case you decide to go with their services.
Packing Boxes Is A Lot Of Fun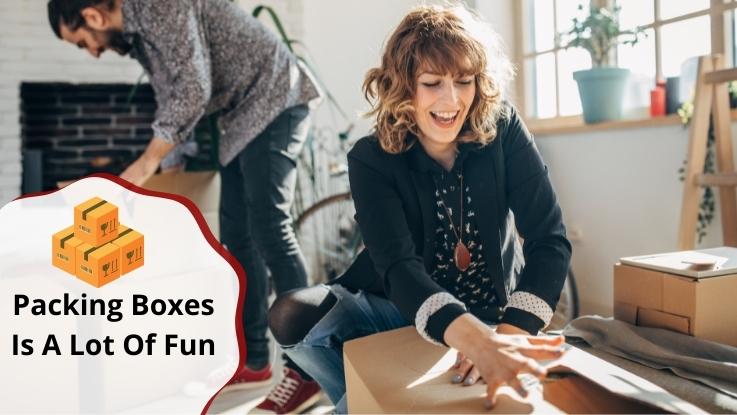 You are going to need a few reusable packaging materials that your neighbors and friends can provide. This is going to be more practical if you are moving on a budget. Other than this, you can get brand new packing materials at your nearest dollar store as well. Remember that you might take at least 20 hours to downsize and around 40 hours in total to pack all your stuff. Again, this is quite subjective and depends on the number of belongings you have.
Moving Your Furniture On Your Own
Have you been keeping fit enough to do the heavy lifting on your own? If you have, you already have the confidence to move your furniture pieces and heavy cargo all by yourself. This is where you should also be concerned about your safety and that of everyone living in your house. It can be a bit of a struggle in the beginning but if you are confident enough and practice safety first, you will be able to pull it off with flying colors.
Sort Through Your Belongings
It is very important to sort through all your belongings. Make an inventory of all the things that you are going to need including your clothes, books, appliances, medication, health care management tools, and equipment. Separate these items from the non-essential ones.
Also, a tip for the kids, part of moving your seniors with care is letting them take control. Encourage them to pack their stuff in different boxes. Help them create labels and follow their lead while they sort them correctly. This will instill in them more confidence.
One Month Before Moving
You are on roll but there is one more thing that you need to do one month before the moving day.
Make a list of your expensive items and all your valuables. Make sure that you have not left anything behind by double checking and triple checking the list.
Remember to double-check your moving arrangements as well. If you have associated with a packing and moving company, it is time to reconfirm their schedule and your appointment with them.
You have already begun the packing process and this means that you might be in the middle of it. The items that you do not need currently must be neatly packed and stacked.
Call your physician or family doctor right away to get an instant medical check-up. Find out the medications and prescriptions that you will need leading up to the moving day.
Dealing With Your Emotions
This transition can be hard for a lot of people and this is why we advised you to get in touch with your physician in the first place. But you don't have to be afraid of these emotions. You do not have to bottle them up. Talk to your physician and your friends and family members about it. Discuss it in the open so that no sense of taboo remains attached with this transition. A few symptoms that you might have to deal with and will be better off preparing for include:
Depression
Sadness
Mood swings
Sleep problems
Withdrawal
Isolation
Confusion
Despair
Apprehension
Anxiety
One Week Before Moving
So, you have dealt with the majority of the packing issues and emotional stresses as well. Only one week remains for the moving day. What do you do?
Get A Hold Of Your Prescribed Medication
This should be your biggest priority because this is what is going to keep you active and healthy. Pack your prescribed medications and supplements in a bag that is easily reachable. Make sure not to forget it at any cost.
Set Up A Quick Charity Or Garage Sale
You have already downsized your belongings and separated the items that you might not need in the new home. It is time to organize a quick garage sale or probably visit your preferred charity to do the needful.
Arrange for mails to be forwarded to all your friends, family members, relatives, and colleagues. Make sure that all your utility bills, insurance, and other important documents are sent to your new address. Update the relevant information with your bank, online shopping portals, and OTT subscriptions as well.
The Big Day Is Here!
The big day is finally here. You will begin by verifying your movers and reconfirming their appointment with you. Take a walkthrough of your home and make sure that nothing is left behind. Ensure that all the packages and boxes are neatly stacked up in the moving vehicle. 
Settling Into Your New Home
You must take out the time to relax and unwind a little in your new home. You do not have to open and set up all the boxes at once. Plan a housewarming party and invite all your friends and neighbors. Ask some of them to help you out with unpacking. Enjoy the entire process. You are going to love this move.
For an easy moving experience with professional movers. Call us Now – 1300 CBD MOVERS