Everybody wants to save a little bit more when they are about to move from their old house to a new one. The saving tips and tricks that they are already employing while moving perhaps just don't seem enough. And this is quite fair given that we have all been through a very rough time in the past two years.
Looking for affordable moving services. Contact us for a Free Quote.
If you too are trying to save a few extra bucks as you relocate to your new home, the following section should be able to help you out. Let's begin:
Don't Make The Mistake Of Overbuying
What is this mistake that so many people talk about? This is one of the most common errors that you might end up making when you are about to move to your new home. The trick is to create a budget in your mind and stick to it without fail. Do not overbuy for your new home. Whether it is new electronic items or OTT subscriptions or any food supplies, you might end up making excessive purchases at the last moment. Refrain from doing that at all costs if you want to save money during relocation. There is also a thing called emotional spending which means that a lot of the women out there are prone to making this mistake. Instead, just remember to do the following:
Categorize all the items in your Shopping Cart as essential and avoidable
Do not start decorating your new space until you have moved into it
Stay away from any impulsive purchases that promise discounts and cashback offers
The less you buy the more money you will end up saving on a moving day
Donate All Your Bulky Items
If you don't know what to do with your bulky items, the best approach is to donate them or sell them off. Selling off some of the items that you probably won't need in your new home is a great way to make extra pocket money before you move out of your old house. You can also organize a garage sale and sell off all the items that you will not need in your new house. If you have decided to donate any of these items, you may even be able to get income tax rebates provided that you record all the details. Make sure that you have an itemized receipt for every item that you donate. 
Reuse Free Packing Materials
What are free packing materials? The packing materials that are readily available in your house are the free ones that you could be using right now. For example, you can use your old socks to wrap your glassware. You can use old bubble wrap to protect some of your most intricate decorative pieces. Look around and you will come across a lot of bedsheets and old towels that you can use to protect and cushion your expensive electronic items as well. This is going to save you hundreds of dollars when you finally begin your packing. You can also ask a few of your friends and neighbors to drop a few cardboard boxes and bubble wrap that they might have to lie around in their house. This does not just give you an opportunity to reconnect with them but also to ask for their help and a little extra muscle power when moving about heavy cargo and luggage or furniture pieces.
Avoid The Busy Season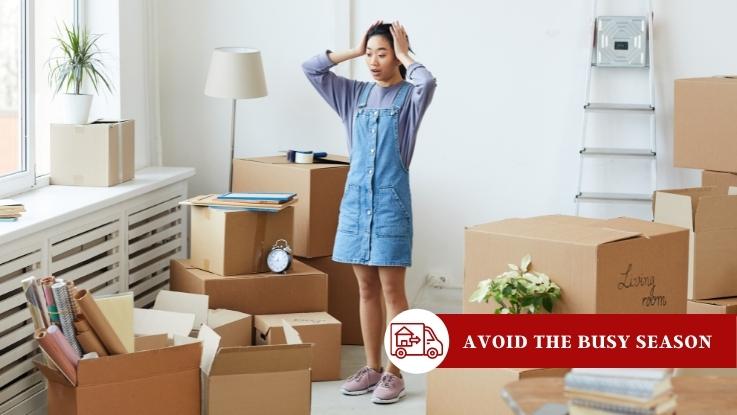 A lot of homeowners and probably some of your friends and relatives will advise you to stay put during the busy season. This situation can get out of control very easily. It is simply because, during the peak season, the prices are unreasonably high. Usually, the peak seasons are from May to September. Off-season rates are usually very low and you are going to have a very comfortable move when you are not in a hurry to avoid traffic jams and rush hours.
Compare Prices From Numerous Packers And Movers
Let's just imagine that you want to give away this responsibility to a packing and moving professional. You should always look to partner with a dependable moving company. The best approach is to invite several quotes from some of the most reputable packers and movers in the city. Be wary of suspicious deals that drive you to make outlandish moving company expenses. These offers are just too good to be true. Don't be too excited to sign on the dotted line when you hear "50% off". Don't be swayed by 30% cashback offers. Consider their insurance, warranty, punctuality, online reviews, recommendations, experience, professionalism, and conduct. You must compare offers from at least 4 or 5 moving and packing companies before you decide upon one removalist.
Pack Electronics In Their Original Packing
Are you one of those clever homeowners who save their original electronic packaging materials? Cardboard boxes, styrofoam, bubble wrap, brown papers, foam padding, and a lot of other materials that come with your electronic items such as televisions and computers can be repurposed very easily. The less you spend on these packaging materials the better it is for you. This move doesn't have to be expensive at all if you are careful while packing your electronic items in their original containers.
Pay A Visit To Your Dollar Store
Remember to purchase your cleaning supplies at your local dollar store. Just as the name suggests, you can never go wrong when making a purchase with these guys. You can also pick up a lot of your grocery items at the same store and can save a ton of money. Do not take these money saving tricks lightly.
Take It Easy With These Saving Tips And Tricks On The Big Day
When you are in the middle of relocating, things do tend to get a little out of control. You might become a little more prone to mood swings, which is alright. You have had a tough time dealing with so many things during the last couple of yours. It is ok to be a little agitated. But you can ease this move on yourself and your family members. Just make sure to call the right removalists at the right time. They will help you out with every bit of the packing and moving procedure. They will make sure that transitioning from your old home to your new house becomes a breeze.
To get more information regarding budget-friendly moving services, Call us Now – 1300 CBD MOVERS